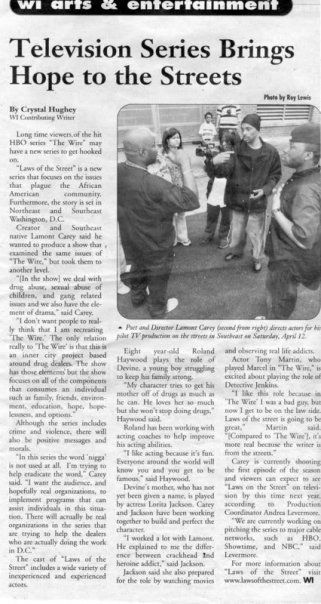 My introduction to the arts came by way of the stage. I became a member of The Ozziddi Project which was formed by the late Archie Childs. Mr. Childs taught me that I have acted all of my life. He illustrated for me that we learn certain things about each individual we relate to and we deal with that person based on that information. Meaning, the way I interact with my mother isn't the same way I interact with my father. He believed we learn how to manipulate our parents to get what we want by acting and therefore it is natural for people by the time they are in Pre-k. I learned how to connect to my emotions and bring them to life through words and body movement on stage. I performed in several stage plays under the leadership of Mr. Childs. One of his teaching methods was to give each individual the freedom to entertain themselves. This is where I learned improvisation. Soon I was writing skits and began crafting and co-directing stage-plays with Mr. Childs as his Vice President. In 2005 I left Ozziddi to form my company, LaCarey Entertainment, LLC.
The mission of LaCarey Entertainment is to assist new and established artist to fulfill their dreams in the entertainment industry. We started off teaching acting classes and casting. Eventually I made three appearances on the Peabody Award winning HBO show "The Wire'. That lead us to casting over 260 persons for the show through the Pat Moran Agency. We began casting for small and major film projects as well as stage-plays and commercials such as the "I am a Phoenix" campaign.  Shortly thereafter, as a creative writer and acting coach, I started to develop a series I wrote and produced entitled, "Laws Of The STREETS. Soon after the filming of the series began, we had the opportunity to direct two plays at the John F. Kennedy Center in Washington, DC. After those projects were completed we began filming a documentary entitled,  "Outside The Gate" which features four ex-offenders who have successfully transitioned. We are currently reworking those projects in order to shop to major television networks.
Trailers of both projects are available for you to review below. We are in need of financial and creative support to complete both projects. If you feel inspired to support our efforts, please contact us at _________ You can also make a donation for either "Outside The Gate" or Laws Of The STREET" using the donation button that accompanies each trailer. I really appreciate your support in helping us fulfill our missions. 
Project Trailers: 
 Outside The Gate
TV Series: Laws Of The STREET 
Laws Of The STREET-The play